4B has the world's largest range of elevator components, leading the field in elevator bucket and bolt design and manufacturing the highest quality forged chain and elevator belting.
Our electronics division specializes in level controls, intelligent sensors and safety control systems that prevent costly downtime and minimize the risk of explosion in hazardous areas.
With over 125 years of engineering experience and subsidiaries in America, Europe, Africa and Asia along with a worldwide network of distributors, 4B can provide practical solutions for any application no matter the location.
4B Company Overview
PRODUCTS

4B manufactures plastic, steel and stainless steel elevator buckets and cups for agricultural and industrial applications. With over 400 different sizes and styles, 4B can supply the right product for your bucket elevator.

4B has a complete product line of elevator and conveyor belting, belt splices, pulleys and lagging for bucket elevators and belt conveyors. Rubber and PVC belting types including: grain, abrasion resistant, oil & heat retardant, along with steel web cord belting for the toughest environments. Belts supplied slit, cut to length and punched to your requirements. Four belt splice styles available for all the various belt types and applications. Replaceable pulley lagging has been designed to virtually eliminate belt slippage by increasing traction under all operating conditions.

4B has an extensive range of CSA / ATEX / CE approved hazard monitoring systems specifically designed for bucket elevators and conveyors in dust hazard environments. As an industry leader in developing high quality, innovative, and dependable electronic components, 4B can recommend the ideal system to suit your requirements and budget.

4B bearing and surface temperature sensors are a cost effective way to monitor equipment for predictive maintenance issues and to protect personnel in explosive dust environments. Good predictive maintenance reduces machine downtime and decreases overall maintenance costs. While monitoring temperature in explosive dust areas helps to prevent the threat of a potential explosion and safety catastrophe.

4B is a manufacturer of the most commonly used elevator bolt types - #1 Norway, Fanged, Easifit, Euro and REF 70™. Our internationally proven range of bolts exceed grade 2 industry standards. With our production volume, 4B has a large number of elevator bolts available in stock for immediate shipment.

4B is a manufacturer of drop forged chain for agricultural and industrial applications. 4B's drop forged chain is made of special heat treated alloy steel case hardened to Rockwell C57 - C62 with a ductile core hardness of Rockwell C40. 4B's superior heat treatment technique provides the optimum chain link with a more resilient ductile core for shock resistance, and an extremely hard exterior surface for superior wear resistance. 4B's drop forged chain is backed by an international network of companies with over 125 years of experience, and a global team of engineers and sales professionals that can provide you with practical solutions for all your material handling applications.

4B's line of speed switch sensors include: proximity, inductive, zero speed, stop motion and rotech encoders to monitor dangerous belt slip, underspeed or stop conditions on conveyors, bucket elevators and any other shaft driven machinery. Our non-contacting sensors can be used to detect screw conveyor flights, elevator bucket bolts and other moving ferrous targets. Speed switches can be connected to a PLC or to one of 4B's hazard monitory systems to provide alarm and/or shutdown of your machinery when dangerous conditions are detected.

4B's line of sensors and switches for detecting alignment and motion for bucket elevators, belt and drag chain conveyors or screw conveyors. The Touchswitch is an electro-mechanical limit switch with no moving parts, which detects tracking and misalignment problems on bucket elevators and conveyors. When a belt misaligns or a pulley moves over and contacts the sensor, the built in solid-state electronic circuitry detects the lateral force of the belt or pulley and activates a voltage free relay contact. This relay contact is used to immediately alarm and shutdown the machine. Brass rub blocks monitor for belt misalignment problems on bucket elevators and conveyors by detecting heat generated by the friction of the misaligning belt rubbing against the brass. A temperature sensor within the brass block provides the temperature reading and the system generates an alarm and a shutdown when a trip point is reached. The WDA sensor is designed to detect a moving ferrous target. It can be used on bucket elevators to measure speed and alignment by sensing either the metal elevator buckets, or the ferrous bolts attached to plastic buckets. A more specialized use for the WDA switch is as a broken/slack chain detector on drag chain conveyors, or as a non-contact speed switch for screw conveyors.

4B's line of inductive proximity sensors have been designed to detect shaft speed, shaft positon, gate position or object presence. Proximity sensors can be connected to a PLC or to one of 4B's hazard monitory systems to provide alarm and/or shutdown of your machinery when trip conditions are detected.

4B has a wide range of radio frequency (RF), rotary paddle and capacitance point level indicators for detecting high, intermediate, or low levels of liquids, powders and free flowing granular solids stored in tanks, bins, silos or other containers. Certain units can also be used as plug or choke detectors in chutes, conveyors and elevator legs.

Alarms and Displays
Panel-mounting DIN style meter capable of use as a tachometer or timer
High visibility 6-digit vacuum fluorescent display
Accepts a wide range of sensor inputs e.g. M800, Whirligig + proximity switch
User/factory programmable
Output displayed in "real" engineering units.
Alarm monitoring system
Alarm indication panel with external alarm horn
For use with level indicators, hazard controls and limit switch devices
Uses microprocessor unit and various sensors to monitor up to 8 alarm zones
Dust hazard approved

The Pullswitch is a failsafe taut wire emergency pull cord safety stop switch for open conveyors. PVC coated steel pull wire and pigtails connect between the switches to provide easy installation and continuous emergency stop access along the length of the entire conveyor. The unique open curled design of the pigtail allows the pull wire to be installed or removed without disconnecting the entire assembly. Pullswitches can be installed at 200 ft. intervals, reducing overall system cost. Quick location of a tripped switch is provided by a cats eye reflector or optional flag indicator, and the tripped signal can be wired back to the motor starter and an alarm panel or PLC.
The Pullswitch is a taut wire device, so if wire tension is lost the unit will trip. This design provides a secondary level of safety protection if the pull wire is damaged, or becomes slack.
The Pullswitch has an IP65 / NEMA 4, 4X, 9 rated enclosure made from polycarbonate with stainless steel plates, making the housing corrosion resistant and weatherproof. A total of six independent changeover contacts inside the Pullswitch offer flexible operation and control. Two independent cam operated switches with snap action mechanical operation are provided for conveyor shutdown, and four additional micro-switches signal a slack wire alarm.

At 4B, our basis has always been engineering and our expertise in providing solutions for our customers. Rather than just selling products off the shelf, our engineers thrive on the challenge of finding solutions specific to our customers' needs. Whether you need help with the design or upgrade of a bucket elevator or conveyor - or just need a solution for protecting your equipment from the dangers related to explosive environments, our engineers can help.

4B offers an array of tools and services to support you and our products. The 4B Tech Team can answer your installation and operation questions, and provide on-site inspection, testing or commissioning services for our products. 4B has developed testing tools to easily check our sensors in the field during routine maintenance. We also have a selection of tools available to help with the installation of our products.
Click Below to Learn more about the All-New IE-NODE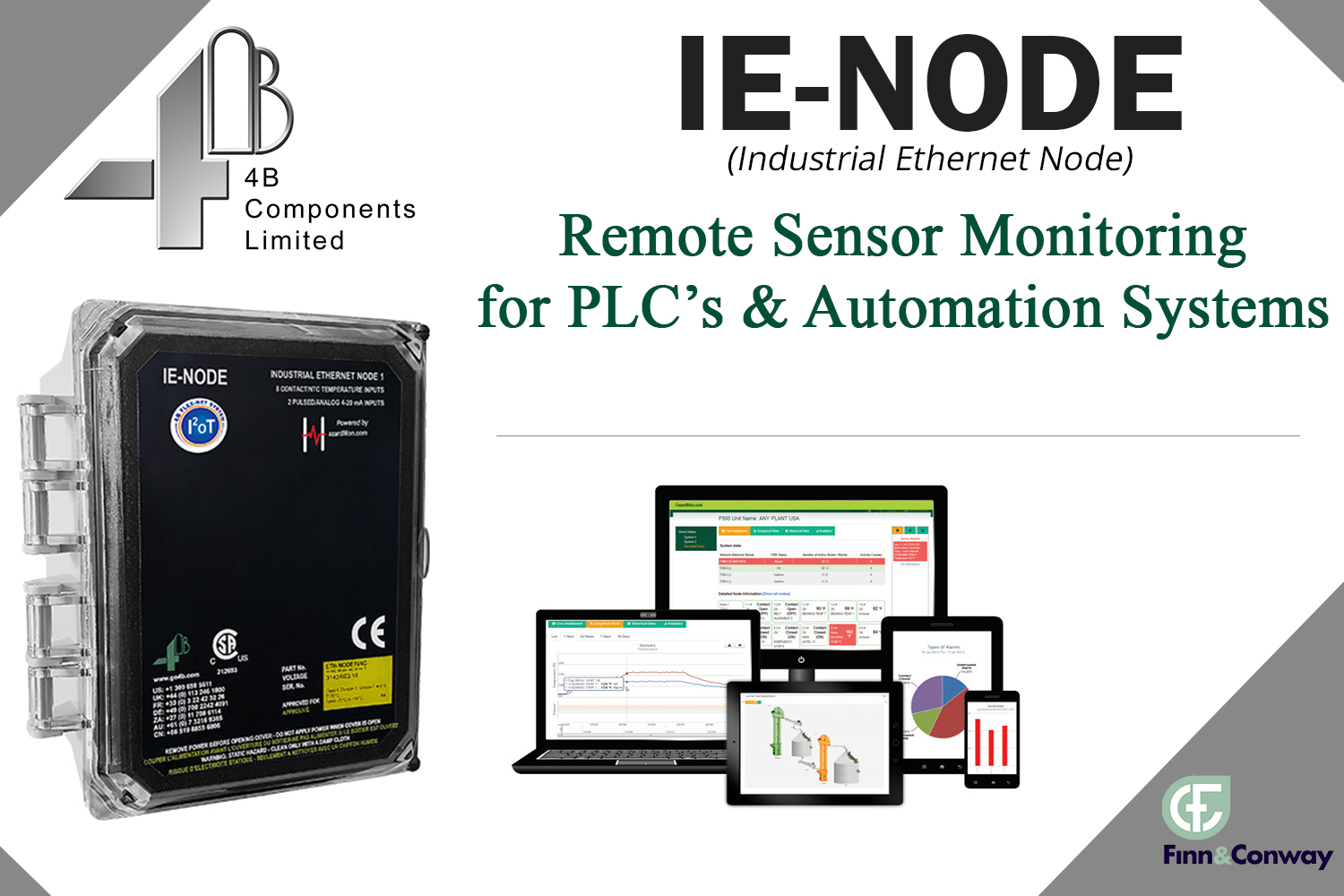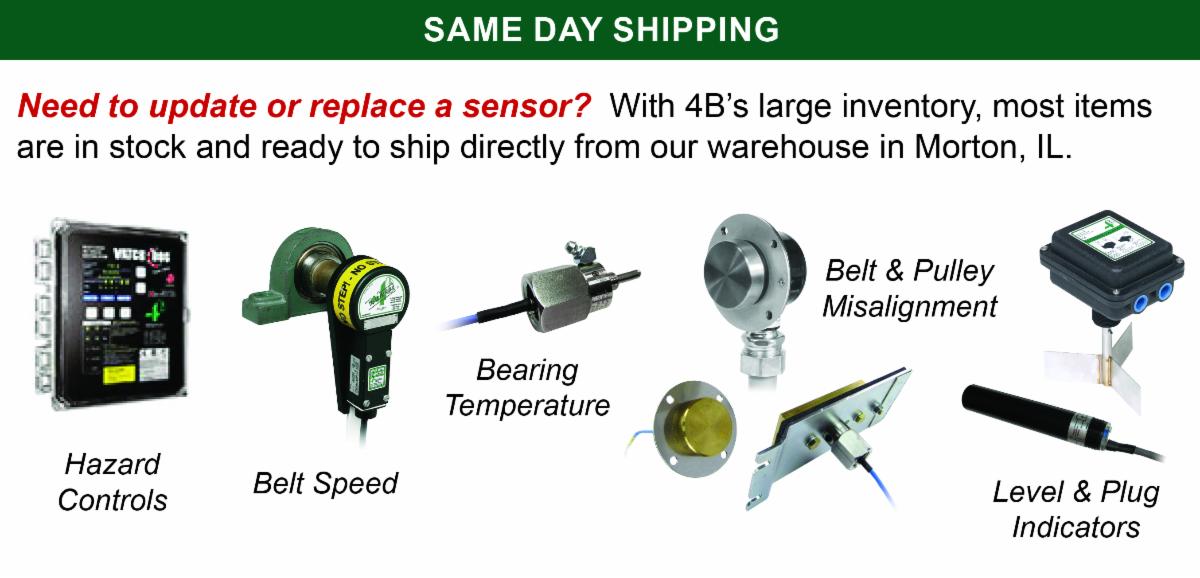 To learn more about 4B Compenents,
Contact Finn & Conway today!