THE PREMIER MANUFACTURER OF RTD TEMPERATURE SENSORS,
THERMOCOUPLES & THERMOWELLS IN NORTH AMERICA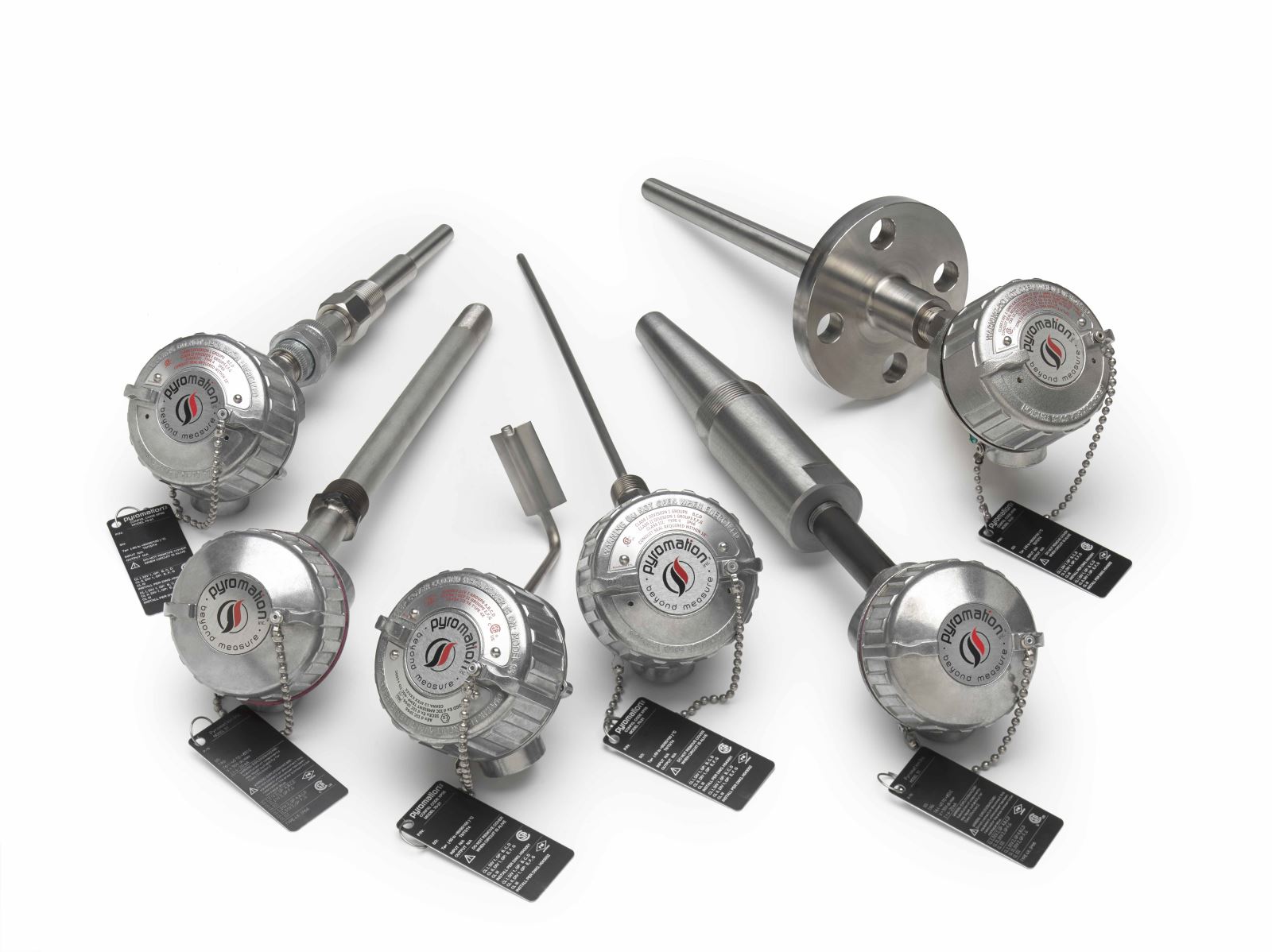 SPEED, SERVICE, SOLUTIONS...BEYOND MEASURE®
Pyromation began operations in 1962 and is one of the leading manufacturers of thermocouples, RTDs, PT100s and Thermowells in North America. As an ISO 9001-registered company, Advanced Manufacturing Firm and Lean enterprise with an onsite NVLAP-Accredited Metrology Laboratory (Lab Code 200502-0), the Fort Wayne, IN-based operation's team members are invested in providing the best solution for each customer's application.
Pyromation produces a variety of temperature sensors and assemblies in both standard and custom designs, which can be found on equipment and in process applications in the chemical, petrochemical, power generation, food & beverage, dairy, plastics, heat-treating, oil & gas, pharmaceutical, aerospace, biomass, metal processing, rubber, mining, HVAC, water & wastewater, incineration and many other industries in North America and around the world.
Meet The Company Behind the Sensors
Ensure you receive your TC and RTD sensors accurately the 1st time!



Configurator Tool for Reps & Distributors

The chemical industry incorporates a myriad of specialties, each with specific process requirements. Pyromation produces temperature sensors that meet these specifications for almost every application within the industry. Pyromation has designed and developed many sanitary CIP (Clean-In-Place) sensors that are 3-A approved. Some of these are fast response sensors, which may be critical for sanitary systems. We also produce a line of sensors that flush-mount with the interior wall of a storage tank, measuring the temperature of the material without penetrating the inside of the vessel.

For the multiple processes in the extraction, production, refining and distribution of oil, gas and other petrochemicals, Pyromation offers a number of temperature sensors. Among these, our Teflon"-coated assemblies resist corrosion and chemical attack. These sensor assemblies are built for direct immersion in the process, while other types are constructed with a thermowell for protection. Heat tracing sensors are available to measure surface temperature of pipes within systems.

Pyromation produces a number of temperature sensors for the food, beverage and dairy industries. Many of these sensors are sanitary CIP (Clean In Place) for convenient washdowns and are 3-A approved. Some of these sensors meet the stringent High Temperature, Short Test (HTST) requirements for pasteurization. We also produce a line of sensors that flush-mount with the interior wall of a storage tank, measuring the temperature of the material without penetrating the inside of the vessel.

Pyromation makes precise, highly-accurate sensors used in the medical industry. Many of these assemblies are sanitary Clean-In-Place (CIP) sensors that are available with transmitters and thermowell protection and are 3-A approved. Besides being precise in temperature measurement, some of the sensors are designed for fast response times - critical in laboratories and environmental chambers.

Pyromation provides many temperature sensors for the specific needs of the pharmaceutical industry. For sanitary applications, we produce a line of Clean-In-Place (CIP) sensors with connection heads, which are 3-A approved. Many of these sensors are available with transmitters. We also produce a line of sensors that flush-mount with the interior wall of a storage tank, measuring the temperature of the material without penetrating the inside of the vessel. Other sensors are designed for immersion or surface measurement in the injection molding and packaging side of the industry.
Pipe Thermowells are an Economic Alternative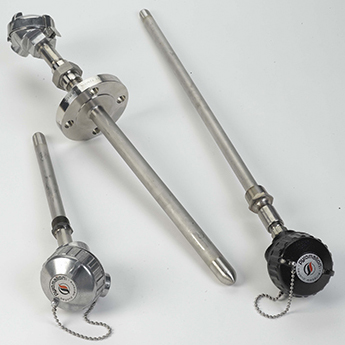 When expensive, high-pressure-rated thermowells are not required, Pyromation pipe thermowells, made of steel or Inconel materials, provide an economic alternative for protection of temperature sensors in hot, corrosive, low-pressure applications. These pipes are available with an assortment of process mounting connections and in a variety of sizes and materials. Pipe thermowell temperature sensor assemblies are ideal for use in many chemical, oil & gas and power generation applications.
Bi-Metal Thermometers Provide on-site Temperature Readings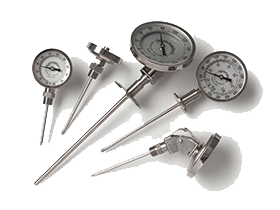 Pyromation carries general-purpose and CIP sanitary bi-metal thermometers. These bi-metal thermometers measure the temperature of a material within a process piping system, tank, vessel or other application where a local temperature reading is required. Bi-metal thermometers are available as stand-alone units or as assemblies encased in thermowells.
XP-Rated Temperature Sensor Assemblies Meet Industry Requirements
Pyromation specializes in manufacturing standard and custom-designed complete temperature sensor assemblies for hazardous location oil & gas and chemical applications, including drilling, extraction, dehydration, compression, production, refining, cracking, distillation, fractionation, liquefaction, vaporization, storage and piping processes. The XP sensor assemblies carry FM and CSA certifications, and numerous thermowell alloys are available.
Custom-Designed Thermowells Protect Sensors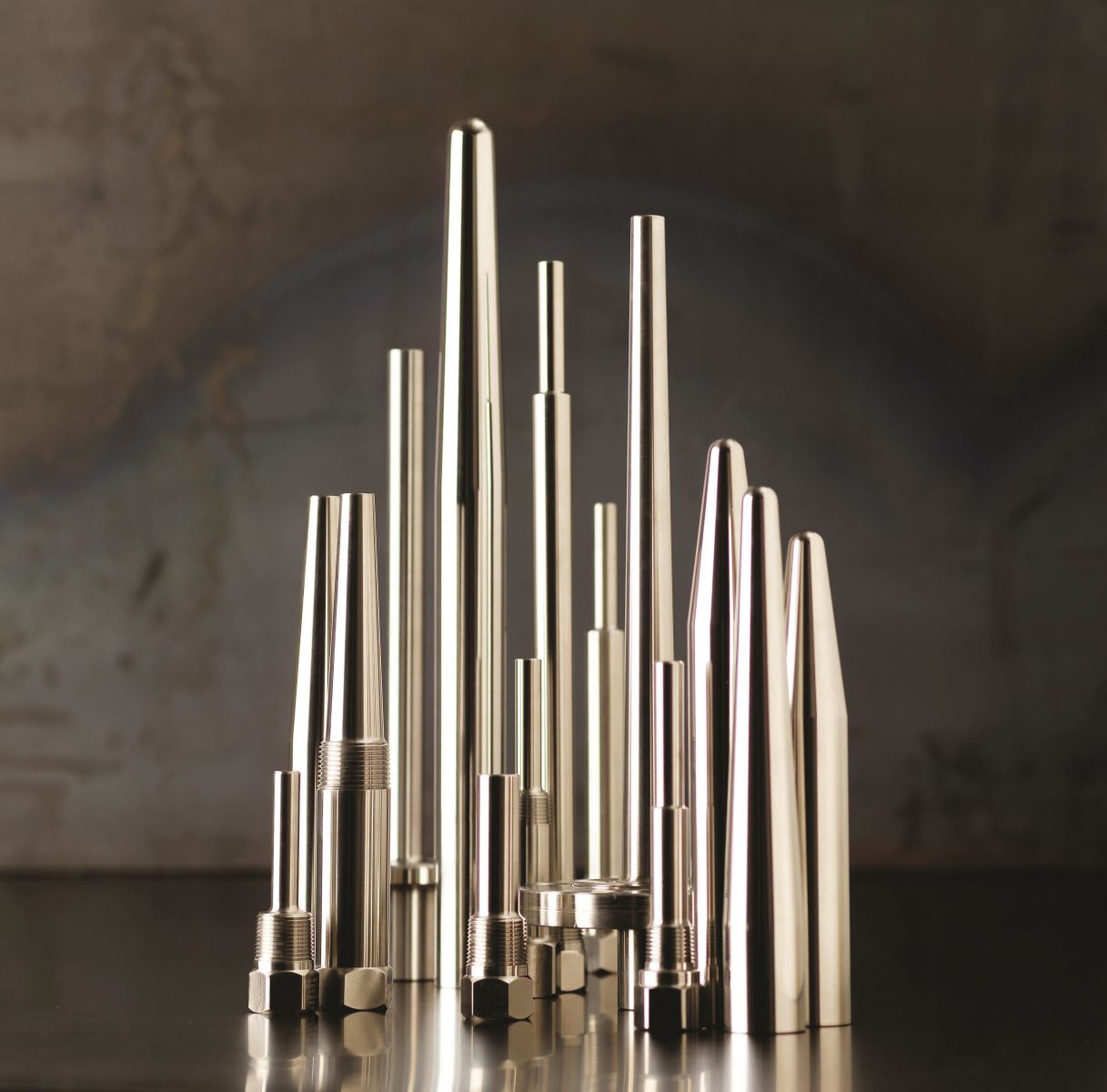 Pyromation produces a variety of drilled and flanged thermowells to protect temperature sensing elements from the corrosive elements, high pressure and high velocities that can be present in many industrial process applications. Thermowells are available as stand-alone products or as part of complete temperature sensor assemblies. Standard and custom designs can be manufactured in a variety of alloy materials.
Temperature Transmitters for all Applications
Pyromation's line of temperature transmitters provide an economical option for transmitting a signal from the point of measurement (the sensor) to recording or control equipment. This line of transmitters include various types and styles, all of which convert inputs from RTDs, Thermocouples and other resistance or voltage sources to a (4 to 20) mA output signal.

Most transmitters are HART® protocol programmable units and are safe for use in hazardous locations. Dual-input and digital display options are available on specific transmitter types.
Comprehensive Product Line and Solutions - Pyromation's complete product line covers almost any temperature sensor need. Specific products meet domestic and international industry standards such as FM, CSA, ATEX, IECeX, and 3A, to name a few. Our regional sales rep and distributor partners carry total process solutions packages that include level, pressure, flow, PLCs and more.
Experience – Pyromation's Regional Sales managers average 25 years of experience in finding solutions for customer applications. The company's network of regional sales reps and distributors are also experts in the local areas and industries they serve.
Custom Designs – Dedicated product engineers and sales managers use the latest technology and industry knowledge in developing robust sensor solutions to meet unique customer specifications and/or applications.
Metrology Lab – Pyromation's on site NVLAP Lab Code 200502-0 Accredited Metrology Laboratory conducts temperature calibrations per customers' requirements, while also testing incoming materials for compliance to special limits. In addition, the lab performs NDT (Non-Destructive Testing) for the company's manufactured thermowells.
Special Packaging – Special handling, packaging, crating, customs documents or other requirements are easily integrated into the company's shipping procedures. Pyromation ships thousands of packages each week.
Delivery Options – Pyromation's standard order delivery time is four business days. Expediting options include: • Same-day express orders • 24-hour express orders • 72-hour express orders
Private Labeling – Customer branding or identification is available on sensor assemblies upon request. The identification includes customer part numbers, logo and company name on tags, documentation and the sensors themselves.
Vertical Integration – Pyromation manufactures its own thermowells, as well as its design-patented connection heads. The company also conducts NDT on site through its Metrology Lab. These on-site capabilities help Pyromation ensure quality, control inventory, decrease costs and reduce lead time for orders.
Certifications – Documentation is available as required for customer orders: Certificates of Compliance (CofC) – verifies sensors meet order specs Material Test Reports (MTR) – provides material traceability Certificates of Origin (CO) – documents country of origin for goods sold Non-Destructive Testing (NDT) – reports provided for each type of test Wake Frequency Calculations – reports summarize pass/fail calculations conducted by Pyromation engineers per customer specs for thermowell designs.
Quality Assurance – As an ISO 9001-registered firm, Pyromation monitors quality throughout the organization. Each sensor is tested to ensure functionality, and final inspections verify correctness of orders prior to shipment. FM, UL, CSA, DNV, ATEX, IEC, NVLAP and 3A audit Pyromation's plant and processes on a periodic basis.