Finn & Conway is proud to represent Backer Hotwatt, a leader in manufacturing resistance heating elements for over 65 years.
Backer Hotwatt offers an extensive line of heaters, including cartridge, air process, immersion, strip and finned strip, tubular and finned tubular, band, foil, flexible glasrope®, crankcase and ceramic heaters.
Industries that utilize these include industrial, medical, commercial, packaging, instrumentation, aviation, transportation, refrigeration, HVAC and the military.
Backer Hotwatt specializes in product customization throughout its product line to meet your heating application requirements.

Backer Hotwatt manufactures a wide range of cartridge heaters for a variety of applications. The size, sheath, leads, terminals, wattage and voltage can be adapted to meet your heating requirement needs.
Cartridge Heaters (Also known as immersion heaters) are Backer Hotwatt's most popular product.
Cartridge Heater Product Page (Backer Hotwatt)

Backer Hotwatt's rugged, reliable small form factor heaters are used in a wide range of applications—from semiconductor test sockets to medical devices, gas detection equipment to opto-electronics—any application where precision heating and reliability are paramount!
Micro-Cartridge Heater Product Page (Backer Hotwatt)

Hotwatt's Air Process heater can provide hot air and gas up to 1000ºF(540ºC) with infinite control by varying the voltage and air velocity supplied. Units are fitted with a tubing "T" for convenient power lead outlet, while larger diameters can be supplied with post terminals on the sheath for direct electrical connections.
Air Process Heater Product Page (Backer Hotwatt)

1/8 Inch and 4MM Diameters 3 - 240 Volt Operation Hundreds of Sizes In Stock. Heaters As Short as 1/2"
When energized, the patented split-sheath expands into contact with surrounding bore for maximum heat transfer and fast response.
When de-energized, the split-sheath contracts for easy, slide-out removal. Sunrods are guaranteed never to seize in the bore.
Uninterrupted hot zone and fully heated tip provides unmatched heat distribution without cold spots.
Slender continuous leads simplify wire management. High flexibility allows free motion when heating "floating" components.
The result is a micro cartridge heater offering longer life, uniform temperatures, and easy installation in the smallest devices.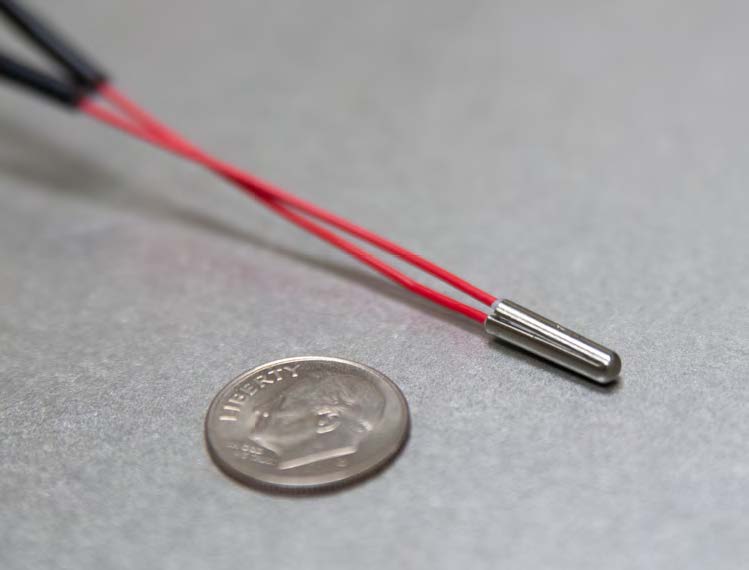 SunRod Heater Product Page (Backer Hotwatt)

Many different builds of the tubular heaters from Backer Hotwatt ensure high performance with long, trouble free service!
The Hotwatt Tubular Heater has built-in resistance to shock, vibration, corrosion, and temperature extremes. The heater is swaged, reducing the diameter of the metal sheath and compacting the insulation. This insures rapid heat transfer and holds the coil in position for forming.
Tubular & Finned Tubular Heater Product Page (Backer Hotwatt)

Applications for the GLASROPE ® & FOIL HEATERS: Pipes, Tubes, and other similar apparatus where spot or particular locations need to be warmed. Odd shapes such as: Laboratory Beakers, Valves, and Piping, Appliances, Drier Units for Blueprint Machines, Incubators, and Tracers for Pipe Lines.
Product Page (Backer Hotwatt)

Backer Hotwatt Crankcase Heaters are constructed of the highest quality corrosion resistance materials and sealed against moisture.
Crankcase heaters are used to overcome the problem of migration and condensation of refrigerant in the crankcases of compressors used in air conditioning and heat pump systems. They are designed to keep the crankcase oil at a temperature higher than the coldest part of the system to prevent migration.
Crankcase Heater Product Page (Backer Hotwatt)

The Backer Hotwatt Ceramic Heater is a ceramic body encasing a resistance element and packed within magnesium oxide. The heaters are terminated with flexible insulated lead wires with temperatures to 1300°F.
Applications utilizing ceramic heaters include Copiers, Dehumidifiers, Glue Guns, Heat Sealing Tools, Instrumentation, Resisters, Soldering and Desoldering Equipment, Valve Heaters.
Cermic Heater Product Page (Backer Hotwatt)

Strip heaters may be used single or in groups to provide the required amount of heat. It is recommended that the strip heaters be clamped securely to the area to be heated to prevent distortion or unequal expansion.
The Backer Hotwatt Stainless Steel Strip Heater provides clean, dependable heat with sheath temperatures up to 1200°F and watt densities up to 40 watts per square inch.
Strip and Finned Strip Heater Product Page (Backer Hotwatt)

The Backer Hotwatt Standard Band Heaters are manufactured in one or two piece constructions with maximum inside diameters of 11 1/2″ and 22 1/2″ respectively. Three or more sections are employed when heaters of larger diameters are needed (as for blown film extrusion dies).
Holes and cutouts are available. Maximum wattage may be reduced with the addition of holes and cutouts. Drawing required for specific location.
Band Heater Product Page (Backer Hotwatt)