THE SMARTEST CONNECTION IS ALSO THE SAFEST
YOUR CONNECTION TO THE FUTURE
miniCON – a mini CONnection with huge potential
This plug connector is the simplest, safest and most reliable way to connect your devices with power sources, data networks or each other.
Thanks to foolproof, maintenance-free operation and a quick, easy installation, you will no longer need specialised staff in the future. Not to mention the significant cost savings you will benefit from.
miniCON is certified in accordance with ATEX and IECEx worldwide for Zones 1, 2, 21 and 22. What does that mean for you? Whether you work in the oil, gas, chemical, pharmaceutical, beverage or cosmetics industry, or even offshore or in shipbuilding, our miniCON is perfect for a wide range of applications wherever you need a reliable plug connector.
ONE CONNECTOR – MANY SYNERGIES
Due to their sophisticated design, the miniCON plug connectors are uniquely flexible, modular and convince through easy handling, cost savings and future-proof security. But what do we really mean by that? It's simple:
FLEXIBILITY
MODULARITY
SIMPLE HANDLING
COST SAVINGS
FUTURE-PROOF
ADDITIONAL HIGHLIGHTS
MINICON – ALWAYS THE RIGHT CHOICE
Are you wondering what else miniCON is capable of? Find out more here.
miniCON for Ex e and Ex d enclosures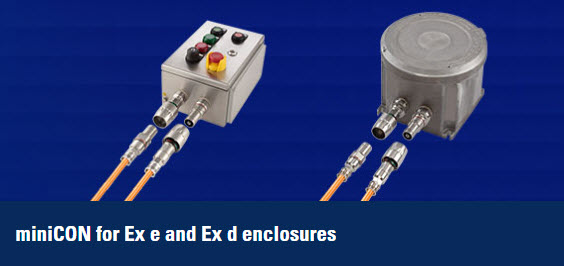 Whether Ex e or Ex d - we have the solution. The 8-pole, explosion-protected miniCON plug connectors of the series 8595 can be effortlessly combined with Ex e or Ex d enclosures. Versions with prefabricated electrical lines are available for installation in enclosures. The plug connectors are available for device installation as device plugs and flange sockets. The high-quality plastic or stainless steel plug connectors are extremely versatile in use and impress with their reliability. Thanks to the hot swap disconnecting capability, intrinsically safe signal and power supplies up to 500 V/16 A can be connected and disconnected reliably and safely without the need for a hot work permit. They are quick and easy to install thanks to their modular design and logically arranged components. Our patented one-hand operation also means that matching plug connectors, which can be defined by the installer using internal coding for up to three applications, can be connected in no time.
Inline applications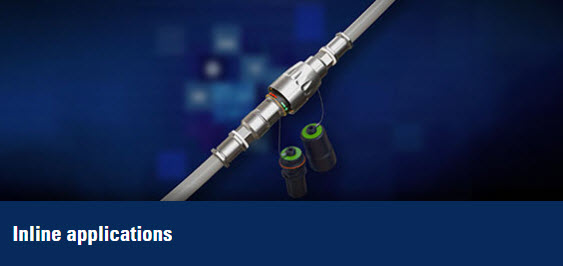 miniCON separates intrinsically safe signals and connection lines with increased safety in hazardous areas within Zones 1, 2, 21 and 22 quickly and safely, even under load. With a high transfer rate of 1 GBit/s, this plug connector system is ideally suited for all fieldbus installations. You can use our plug connectors in measurement and control systems to connect actuators and sensors, or to connect motors, pumps and other electrical equipment with a current consumption of up to 16 A – all in next to no time. The electrical cables are crimped or soldered to establish a reliable connection. With a compact design, wide variety of applications, easy operation and high safety levels, miniCON is the perfect solution for you.
THE TECHNICAL DETAILS AT A GLANCE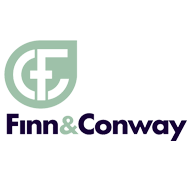 To learn more about solutions from R. Stahl,
get in touch with us today!
(708) 599-0103
csr@finnandconway.com